I am so over winter. I am so over of my stomach hurting. Both of which had a significant impact on my motivational state this week. Thankfully things took a turn for the better as the week progressed.
Monday
My body needed a stretch so Z and I rolled out of bed and did our usual "Morning Yoga for Flexibility" routine.
It had been awhile since we did did arm work and after browsing Pinterest decided that all strength workouts this week must have a Valentine's-related theme. This was perfect!
It didn't take long to get through but it was effective at making my arms burn in no time. 30 consecutive bicep curls are a lot!
Then it was time for abs:
So much planking, so little time. Ab workouts are my favorites so this was right up my alley. My least favorite workouts: legs…ugh.
Tuesday
The weather was supposed to be nice (for February) mid 50s and sunny so I had planned to go running after work.
I needed to stop in to CVS real quick so we did a Fells-Harbor East route, roughly 3 miles total.

Blue skies and sunshine….
Wednesday
Dance day! What I love is that dance is so much fun that you forget it's also a workout. Not only does it provide me with much needed stretching and flexibility work, but it's the most enjoyable cardio I've ever done.
That's probably why I've stuck with it alllllllll these years…
Thursday
Z and I celebrated in a way that is very "us"." I came home from work, put on a pink ensemble and did a holiday-appropriate workout from Tone It Up:
We went through it three times total. I liked the combination moves and was definitely feeling the burn in my arms by the end.
They recommended following it up with their ab-focused routine which we did as well:
Tone It Up- Itty Bitty Bikini Abs Workout
Friday
With a forecast high of almost 60 degrees we were presented with another opportunity to get a run in before the expected Saturday rain/snow.
We decided to combine a trip to Trader Joe's with an opportunity to run somewhere different for a change.
We went with Centennial Park in Ellicott City. Z and I have run there before but it's been a lonnnnng time. I forgot how nice of a run it is!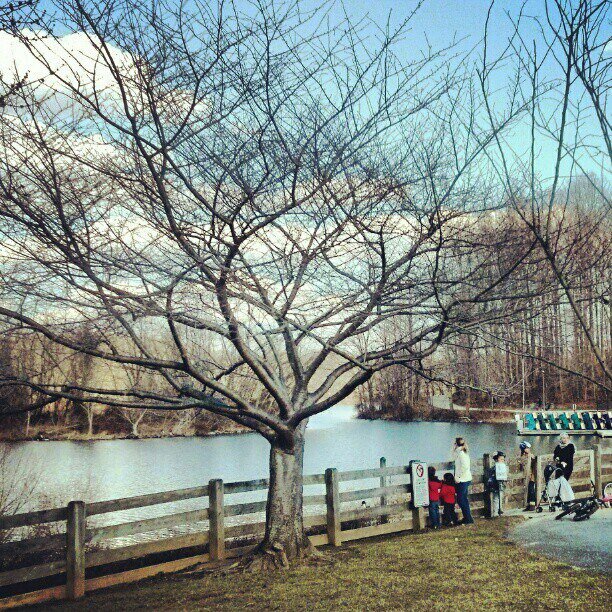 There were tons of people out enjoying the weather, just as we were. One loop around the lake, 2.19 miles.
Saturday
A day to rest, relax and roll. Foam roll that is. Gosh I love that thing!
Now I want to know…
Did you take advantage of the warm weather this week? Do anything fun?