After all the traveling and time in the car last week, Z and I found it nice to get back into our normal routine.
MONDAY
I was scheduled for a 4pm-midnight shift so decided upon an early afternoon run before heading in.
The usual…
WEDNESDAY
Z had plans to meet up with a friend for a run around Canton/Fells at 6. While I had to leave for dance by 7:30, I decided to tag along and at least run with them part of the way before heading back to get ready.
I peeled off and headed home once we hit Fells but the boys headed to Harbor East and back. Running before dance was actually a great idea because it gave me the opportunity to stretch properly after my run! Genius!
Class that night was sparse seeing as how the "So You Think You Can Dance" tour was in town. I must admit I wasn't fully committed to watching it this season. Never quite hooked me in.
THURSDAY
Cardio? Check. Stretching? Check. Now on to weights.
After perusing my Pinterest board I settled on this: thirty exercises for thirty seconds each. Seemed like it could be faced paced and fun.
I usually try and provide a link to the original source but when I followed it from Pinterest it took me to some non-legit looking sites (I might want to run a virus scan after this). I will spare you the trouble. Regardless, the workout was good.
I used the Beach Fitness Online Tabata Clock to track the time. It's the most user friendly one I've found. All you have to do is set it for 30 rounds with 30 seconds work, 30 seconds rest.
FRIDAY
Z and I rolled out of bed, still in our pajamas, and did some abs before heading downstairs to make breakfast. Abs are easy to do in the morning because you spend the whole time lying down!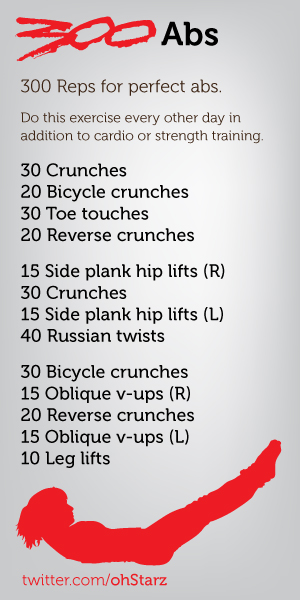 SATURDAY
It's December already?!
In order to commemorate the start of the month we did the newest PBFingers circuit before breakfast. 
I really enjoy the workouts that Julie creates. She always has a great combination of moves that are challenging, but do-able. This one was no exception. We went with three rounds of each circuit, which took us about half an hour. The jumping lunges at the beginning had my legs burning the entire rest of the time. Just like burpees they are extremely effective, but not fun.
There you have it. A week of workouts. Now off to decorate the house some more before playing dress-up and heading to a fancy-schmancy dinner with Z for the National Guard.
Have a good weekend everyone!